Kind of feel like I have thrown everything in this cake. It's a winning combination however. Even though the men in my friends' household were rather dubious at first, they were pleasantly surprised once they tucked into it.
Instructions
1. Preheat oven to 160C and grease your Bundt tin, or if using a simple round tin, line the tin
2. Combine the yoghurt, lemon zest, and juice
3. Beat the eggs, vanilla, and oil together then add to the yogurt mix
4. Add the Velvety mix and the baking powder to the wet mix and stir to combine
5. Fold in the blueber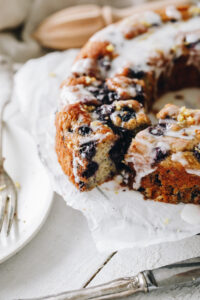 ries
6. Pour the batter into the cake pan and bake for 30 to 35 minutes or the edges are golden, the center looks firm and until a toothpick comes out clean.
7. Cool on a wire rack for about 10 min or so, then remove from pan whilst still a little warm and leave to cool on the rack (or eat warm)
Icing
Mix all the ingredients together well and drizzle over the cake once cooled.
Or you can just squeeze some lemon juice into icing sugar and make icing that way instead