This cake is the best gluten-free and dairy-free Christmas cake you will ever eat. It's good enough to share with the whole family. People who don't normally like fruit cake at all, like this fruit cake. AND it's incredibly easy to make.  You can buy a mixed fruit from the shops (my mother used Tasti Fruit Mix) or I have given a recipe for the mixed fruit if you want to make it yourself.
Instructions
1. Add the mixed fruit, butter/oil, pineapple, extra sugar (if using, you don't really need it), mixed spice, and baking soda to a large saucepan. Stir occasionally as it comes to the boil then turn down to a simmer for 5 min.
2. Leave to cool. I tend to put the mix on in the morning then bake it at night. Your house will smell amazing all day.
3. Once cool, preheat oven to 150C. Add the eggs and mix well. Then add the baking mix and the baking powder and mix well.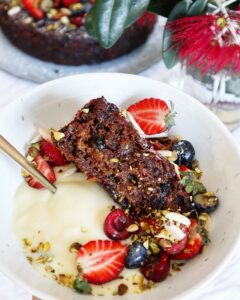 4. Double line a tin with baking paper, both bottom and sides. Pour the thick mix in and bake in the oven for 1 hour 1/4 to 1 hour 1/2. Should be the colour in the picture.
5. Once out of the oven, wrap the whole thing up in a towel and leave till the morning. (I don't know why we do this but this is how much mother taught me so this is what we are doing)
You will notice there is no alcohol in this one. I leave this to your discretion.
Ready to make your Christmas easier and healthier? Grab your mix here and enjoy!