I nicked this idea out of the Gourmet Traveller (great mag) and adapted it to fit my mix. It's perfect for Easter or anytime you want a hit of rich gorgeous chocolate tart/brownie/cake, I can't quite decide what it is. I have kept it simple, you can't really stuff it up. Little baking ability required, apart from being able to separate eggs. Give it a go and let me know what you think. It got a huge thumbs up from everyone who tried it. Plus we tried it room temp and chilled and it was amazing both ways. Get your baking mix here and enjoy!
Instructions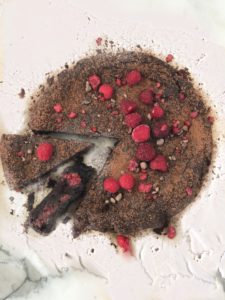 Heat oven to 170 degrees C. Line 22cm tin with baking paper
Melt the chocolate and butter/oil together. I use a bowl on top of a simmering pot of water. Don't let the bottom of the bowl touch the water.
Beat the egg whites till stiff and set aside
Once chocolate mix melted and cooled a little, beat in the egg yolk
Add the HGG chocolate baking mix and stir till well mixed
Fold in the egg whites, then fold in the raspberries and cacao nibs
Spoon batter into lined tin and smooth top. Bake for 15-20 minutes until set but with a slight wobble in the centre. Let cool on bench to room temperature then chill in fridge for 2-3 hours.
This is delicious firm from the fridge or after leaving to get back to room temp (actually you could probably eat it straight from the oven too)
Serve dusted with cocoa and sprinkled with cacao nibs and fresh and freeze dried raspberries


Sound delicious and easy? Get your baking mix here and give it a go
Benefits of using HGG paleo baking mixes and the paleo diet. Low Sugar and Low Carb but still tastes amazing. Very Easy to use, no baking skill required. Ready for the oven in under 3 min. All natural ingredients without preservatives.