I had fun making this. Plus the men in my family gave it a big thumbs up, so I know it's a winner. I will give dairy and non-dairy icing recipes in case you need them. So if you want a delicious, easy and healthy Christmas dessert, then grab your baking mix and prepare to delight
Instructions
Preheat the oven to 200˚C convection oven
Beat the egg yolks with vanilla till pale and as thick and yellow as you can get it. About 10 min.
Meanwhile beat the egg whites till stiff peaks
Fold through the oil/butter and water into the egg yolk mix then fold in the egg whites.
Carefully fold in the HGG chocolate baking mix
Pour the mixture into a lined 20 × 30cm sponge roll tin (I used a baking tray as I didn't have a tin) and bake for 10 to 12 minutes or until the cake springs back when lightly touched.
Cool in the pan for about 3 minutes.
Lay out a damp tea towel on the bench, dusted with icing sugar
Carefully turn the pan over allowing the cake to rest now on the prepared tea towel. Remove the pan and gently peel off the parchment paper
Roll up the cake, starting with the short side. I actually find it easier to roll it with the towel as well, although some advise to peel the towel as you roll. Either way it's fine.
Cool completely.
In the meantime make the filling.
To make the icing, melt the butter/oil and chocolate together in a bowl over a pan of hot water. Take from the heat and stir in 5 tbsp cream. Beat in the icing sugar until smooth. Whisk the remaining cream until it holds its shape. Unravel the cake, spread the cream over the top, scatter over raspberries, defrost if using frozen, then carefully roll up again into a log.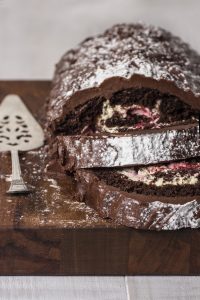 Spread the icing over the log (don't cover the ends), then use a fork to mark the icing to give the effect of tree bark
And you are done! You can make this ahead of time and store in the fridge. Super delicious and pretty darn easy. No one will know its not a high high octane log. If you are ready to wow the people at your table, grab your box of chocolate mix here.
Enjoy!
Benefits of using HGG paleo baking mixes and the paleo diet. Low Sugar and Low Carb but still tastes amazing. Very Easy to use, no baking skill required. Ready for the oven in under 3 min. All natural ingredients without preservatives.