I have been making biscuits with the kids for Christmas presents for the last few years. It's a gorgeous way to deliver a home-made gift to friends, family or teachers even. Pick up our Vanilla baking mix here and get gifting.
Instructions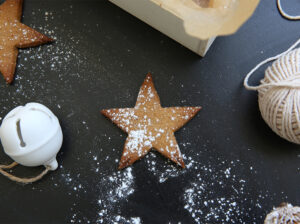 1. Split the cardamom pods and tip the seeds into a mortar, then grind to a powder with the pestle.
2. Put the Vanilla Baking Mix and cardamon powder into a food processor. Chop the butter into small pieces and add to the food processor with the orange zest. Pulse to a fine breadcrumb texture.
3. Then add the egg yolk and 1-2 tsp cold water and pulse to a firm dough. Wrap and chill for 15 mins.
4. Line 2 baking sheets with baking parchment. Roll out half the dough at a time, keep the other in fridge as this is much easier to work with when cold. Use cookie cutters for desired shapes and gather up the trimmings and roll out again to make more biscuits. Chill again for 30 min
5. Heat oven to 180C/160C fan. Bake for 8-10 mins until just golden and crisp. Transfer to a wire rack and leave to cool
Ready to delight and impress your friends at Christmas time? Not to mention make your kitchen smell divine. …. Grab your Vanilla Baking Mix here