I am so so happy at how these turned out. I LOOOOVE ginger spiced biscuits and these were perfect first go! I really had to stop myself from eating all of them…..They are crisp and just bursting with that warm, spiced great taste. I used the Velvety Baking Mix with just a few little extras.
Instructions
Place butter or oil and the nectar in a small saucepan over low heat. Stir for 3-5 minutes or until the butter (if using) melts and everything combines. Set aside for 10 minutes to cool slightly. Transfer to a large bowl.
Add the egg to butter/oil mixture and stir to combine. Sift in the Velvety Baking Mix, ginger, cinnamon, cloves and nutmeg. Stir until well combined. Turn onto a lightly floured surface and gently knead until smooth. Shape into a disc. Cover with baking paper. Place in the fridge for 1 hour to rest. It's much easier to work with when cold too.
Preheat oven to 180°C. Line 2 baking trays with baking paper. Divide dough into 2 even portions. Roll out 1 portion until 5mm thick. Use your cutters to cut shapes from the dough. Place on prepared trays. Bake for 10-15 minutes until dark golden brown. Set aside on trays for 5 minutes to cool before transferring to a wire rack to cool completely. Repeat with the remaining dough.
Easy Peasy! And super yummy. We used to use the ginger mix, but now you have to use the velvety mix.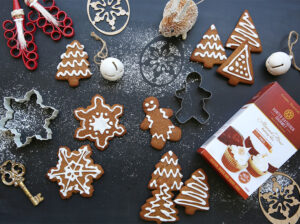 I found mine stayed crisp for about 3 days.
I used xylitol icing sugar to ice them (and it's a lot harder than it looks on pinterest!)
250g icing sugar
1 egg white
1 tbl lemon juice.
Here is a note from the Paleo mom on royal icing substitutes
"A note on Royal Icing: Traditional Royal Icing is made with egg white, lemon juice, and confectioner's sugar. To make grain-free confectioner's sugar, all you have to do is blend something like maple sugar or evaporated cane juice in a blender or food processor until a fine powder, then add 1 Tbsp of arrowroot powder per 1 1/2 cups of sugar ground to a powder. If you want white Royal Icing like my pictures, you'll have to use white sugar. Evaporated cane juice and maple sugar will both give you a tan coloured finished product (still beautiful and tasty though). I made the choice to use white sugar this year since it's the only treat I plan on making and our holiday is otherwise devoid of treats. Royal icing goes quite hard as it dries, so don't make it until you're ready to decorate all of the cookies. If you make cut-outs, you'll have enough icing to decorate a double batch. You can also add natural food coloring to the Royal Icing or use it to glue on chocolate chips or raisins for decoration if you wish. If you make a gingerbread house, you'll have enough to be very elaborate with your decorations!!!"