I couldn't resist recreating this after seeing it pop up on the Dish Magazine Instagram account. As you know I have a fondness for the ginger zing and this dessert certainly has a ginger kick!
I have used our gingerbread recipe and made up a salted caramel icing using I am Vital coconut icing sugar but you can also
Instructions
Preheat your oven to 150C degrees.
Grease and line standard loaf tins with baking paper.
In a large bowl, mix 300g (2 1/4 cup) velvety dry mix, baking soda, baking powder, and all the spices
In a small saucepan add the coconut nectar and butter/oil. Melt over low heat until nicely combined.
Add the nectar and butter/oil mix, followed by the lightly beaten eggs and milk, to the dry ingredients. Whisk to combine, then pour into your prepared loaf tin.
Cook the gingerbread for approx 1 hour and 10 minutes, or until a skewer comes out clean.
Remove from the oven and leave to cool in the tins for 30 minutes before turning out. Make the icing whilst cake is cooling.
Icing
Melt the butter in a small saucepan over medium heat.
Once melted, add coconut sugar and 2 Tablespoons of heavy cream. Whisk constantly until sugar is dissolved. Add salt.
Allow to bubble for about 2 minutes, whisking every 30 seconds or so.
Remove from heat, pour into a heatproof mixing bowl, and allow to cool for about 30 minutes.
With a hand or stand mixer fitted with a whisk attachment, beat in 200g of icing sugar and 3 more Tablespoons of heavy cream. Slowly add more confectioners' sugar until you reach the desired consistency. Add 1 more Tablespoon heavy cream if you find the icing too thick.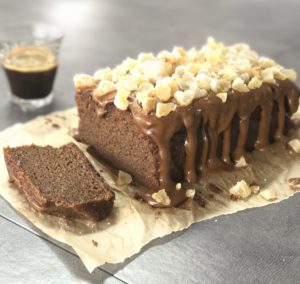 Pour over the gingerbread and then scatter with crystallized ginger. (here is a link to make your own homemade sweet and spicy ginger)
Store in an airtight container. This will be good for at least 4 days stored like this. Enjoy!